Client Online Store Portfolio
Client: Classy Tots
A neat, modern and cute design was created for this brand to showcase their beautiful product range in a fun and bright way to improve conversions. Navigation was significantly improved and the number of clicks required to purchase was reduced. Social media was added in a prominent position along with email capture for newsletter subscription. Contact information and product search has been highlighted in the top fold with clean modern banners and category boxes to improve communication to users. The new store was built with a bespoke responsive design template that automatically configures content for optimal viewing on all device screen sizes. This was important for the client as their target demographic is increasingly shopping online using their smartphones and tablet devices.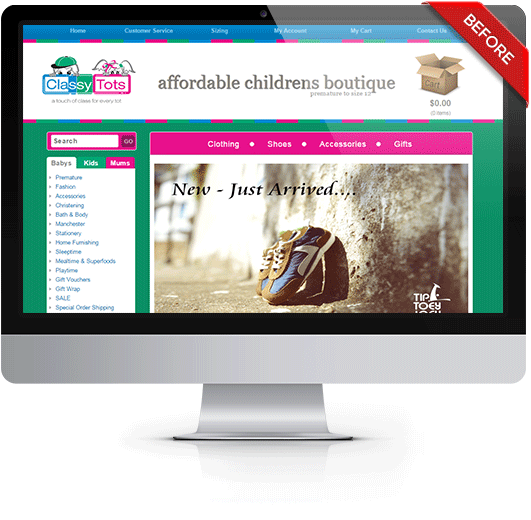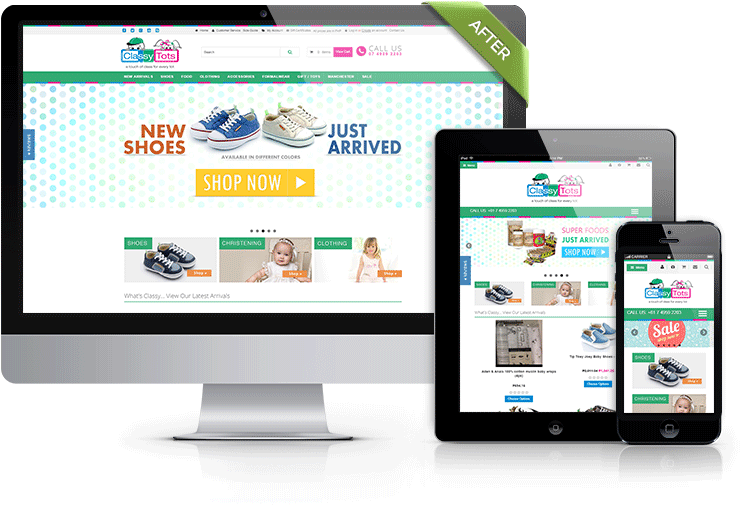 Client: Parrot Essentials
This store was refreshed with a colourful, visually stimulating design that captures the quirky nature of this rapidly growing brand. The clean, colour-coordinated style delivers a contemporary look that immediately improved sales conversion rates. All elements of the new store were designed to ensure visitors could easily navigate and search through the extensive product range and complete rapid one click purchases. Store trust was improved by adding parrot profiles, blog updates, logos, customer reviews and an about us section to further enhance brand integrity. Social media content snippets have been prominently displayed to encourage social interaction with the brand. The updated design is fully responsive and presents beautifully on smartphone and tablet devices. Record sales achieved within 3 months of the new store launch.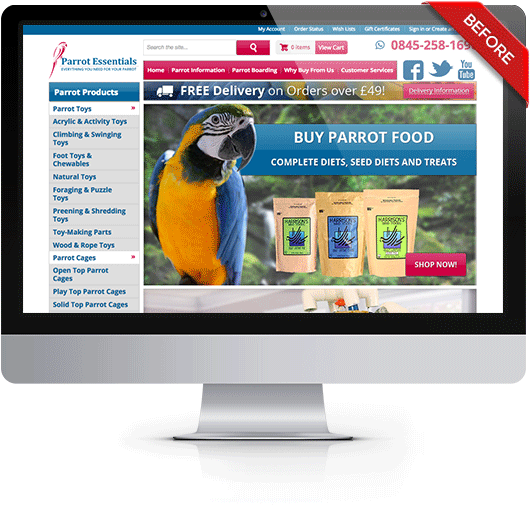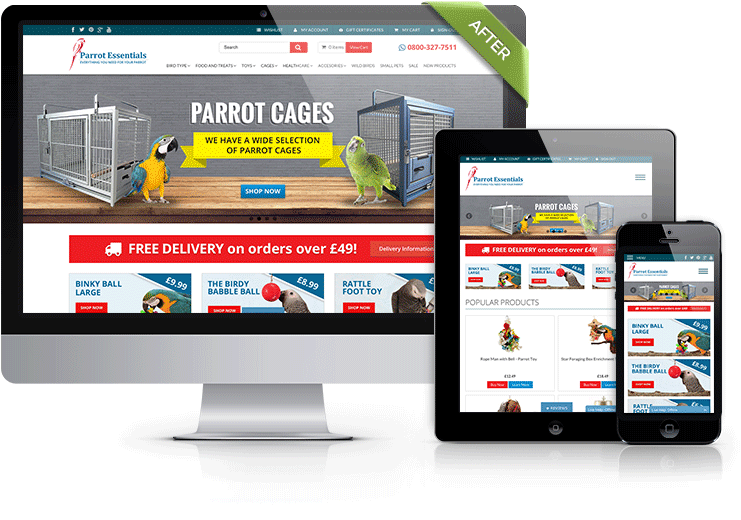 Client: Piggyback Rider
This new store delivers a professional, informative and clean design to build on a fast growing international brand. The new design includes panoramic banner display of the product on rotation with clear action to purchase in the first fold. Enhanced sales conversion rates are driven by premium video display of the product. Store and brand trust is enhanced with blog snippets, testimonials, media logos, social media snippets and clear product illustrations. The new design is fully mobile responsive for impressive display and simple product purchase on all smartphone and tablet devices.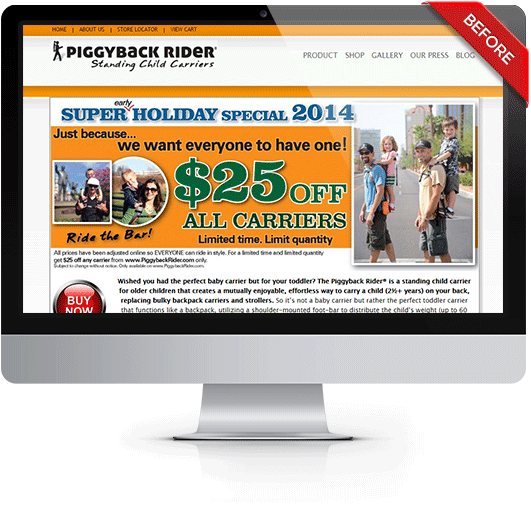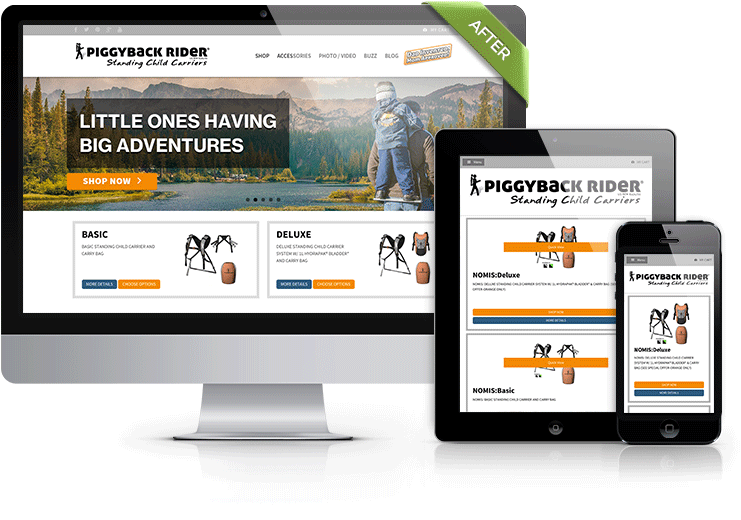 Client: Natural Chemist
This new store was designed to deliver a stronger brand impact and to improve navigation through the thousands of products for sale in this store. Featured products are now professionally displayed with popular brands showcased to build online trust and authority. The new store includes a complete user interface overhaul to improve conversions and to secure growth in client membership. Drop down navigation is highly customised to deliver a high end product experience for visitors. Enhanced features include a hidden product category delivered through a custom build application for members only display. The new store also features a highly customised responsive design that delivers unique content display for smartphones, tablets and larger screen devices.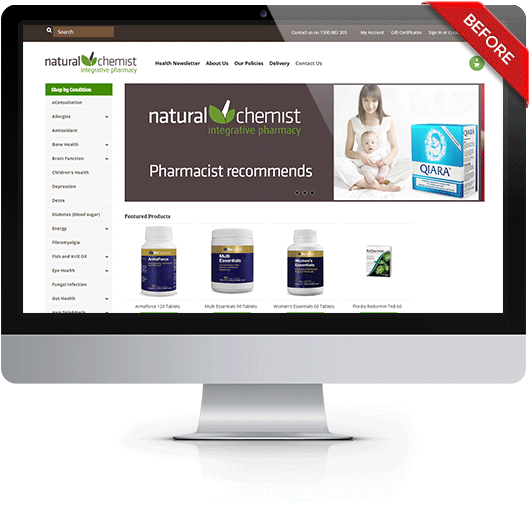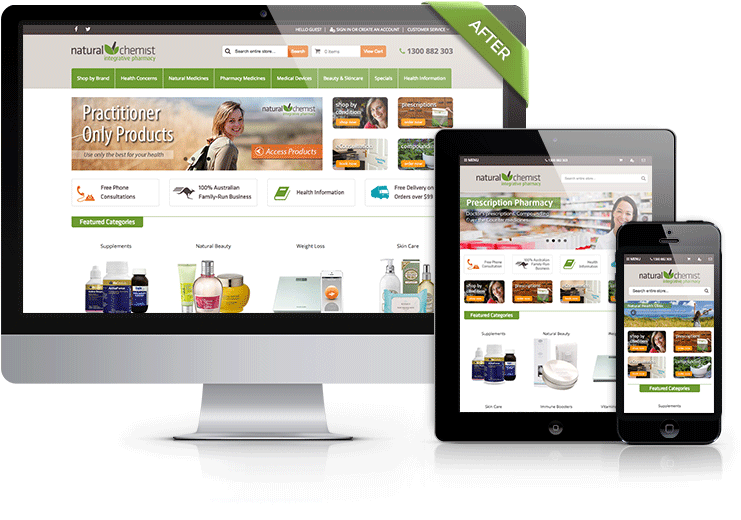 Client: Heart2shine
This client requested a complete new store to improve sales conversion while projecting a soft, warm and calming environment where the interaction online would be a pleasure for their target demographic. Cool colours were used to deliver a modern, elegant look that reflects their brand ethos of perpetrating a soothing effect for their clientele.
Products are now clearly displayed for purchase prominently in the first fold. Navigation was completely overhauled with a custom drop down menu bar and check-out path redesign to improve sales conversions.
Premium video display and high value content is professionally presented to build trust and capture new visitor data. Social media accounts with content snippets encourage users to interact with the community. Client testimonials and a custom built bespoke ordering process enhance sales conversion opportunity.
The optimised store design has auto responsive features that present content beautifully on all smartphone, tablet and larger screen sizes.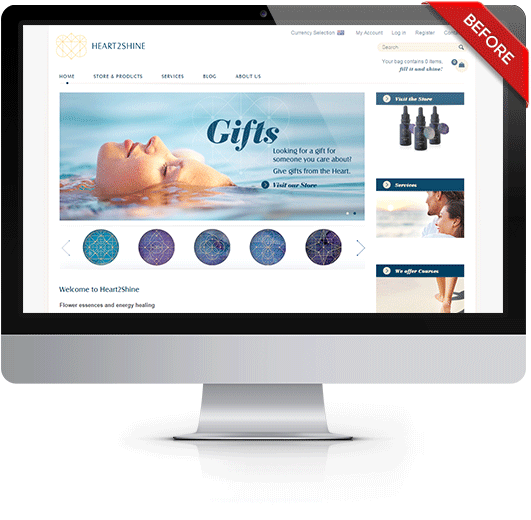 Client: Adore Estate Coffee
This new store features a modern large boxy image design on trend that highlights brilliantly packaged products and the 'Adore Estate' brand. A clean, simple look with a focus on the brand and lifestyle delivers a clean, attractive and consistent message throughout the store. Client testimonials are featured to embolden trust and product authority. Social media buttons are seen conspicuously at the bottom to help clients connect with the company's interactive online presence. Prominent organisations the company has supplied have their logos clearly displayed to further boost authority.
This store is custom built with bespoke responsive design for optimum display on all smartphone, tablet and larger screen size devices.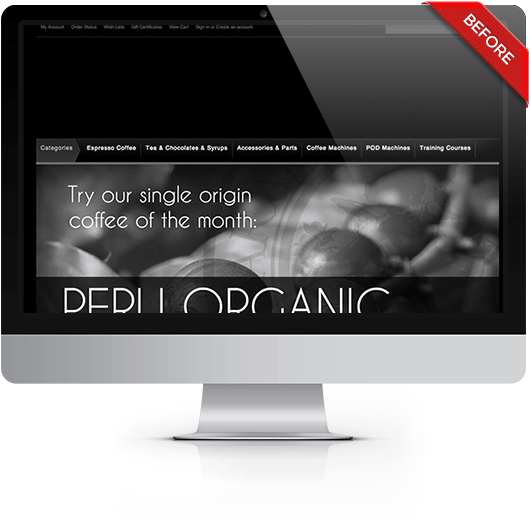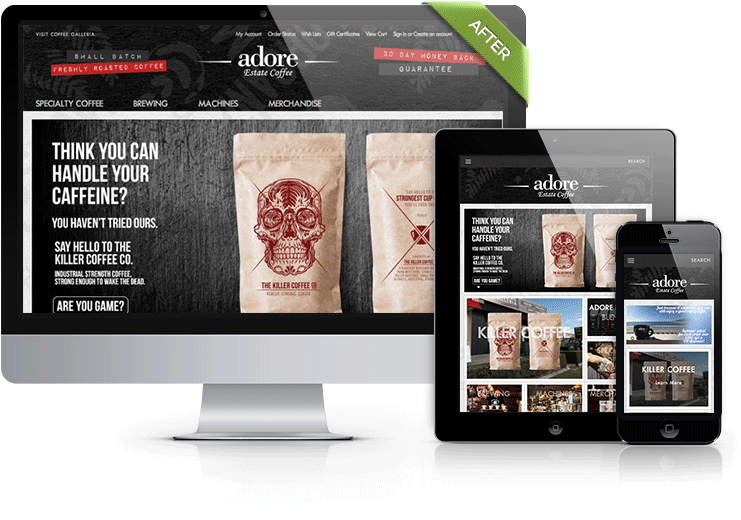 More Client Portfolio – Visit their Online Stores